Handke: My place is with you
http://www.blic.rs/kultura/vesti/handke-moje-mesto-je-uz-vas/1qbdzz0
Tatjana Nježić |
21st
05. 2015-19: 48h
|
Photo: Archive
Belgrade is a city of bright, bright inside and outside, said the famous writer today in City Hall after he was on the town celebrates solemnly granted Charter.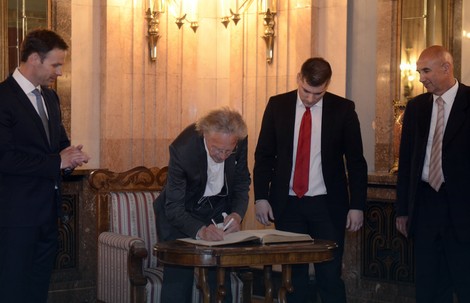 - Belgrade is tragic city.
The city was bombed three times in a century.
But he and the city lights.
Bright was inside and out.
I once said that I belong with the tragic people.
Now I tell my place in the tragic and bright city.
Twenty years ago many major world media wrote that Belgrade is a dark place in the Balkans.
Belgrade was not.
A dark places were some other - said directly and charismatic, the Serbian language, Peter Handke addressing the audience in full ceremonial hall of the City Assembly.
Sincerely and touching at the same time, Handke mentioned that welcomes all people in Belgrade knew and met, such as Milorad Pavic, as well as those he met and got to know, but they are very affectionate and prices, such as Ivo Andric and Novak Djokovic .
He commented afterwards how big and important may be the feeling of loyalty.
- I'll stay loyal to Belgrade.
This recognition does not deserve it, but I accept it on behalf of my children - said Handke.
Previously, participants were greeted by about city celebrates spoke to the Mayor Sinisa Mali, who said among other things that the Ascension Day "symbol of progress," that "the glory of all citizens of Belgrade regardless of their religion," recalled that it is the glory of Belgrade in 1403, and Despot Stefan Lazarevic, and that was restored in 1992.
Solemn Charter honorary citizen of Belgrade famous writer Peter Handke presented the mayor of Mali and President of the City of Belgrade Nikola Nikodijević.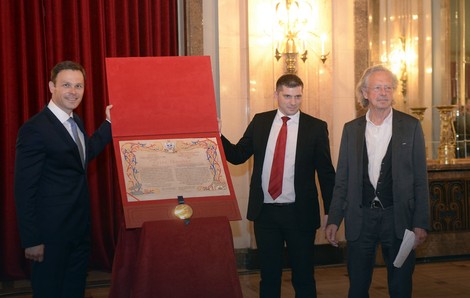 The famous writer Peter Handke (1942, Austria) in the seventies, recall, his work ranked among the leading European writers.
Nineties was the territory of the former Yugoslavia and wrote an essay, "Justice for Serbia" in which, among other things, talked about the fact that the Western world, when it comes to conflicts in the region concerned, should not only attacking the Serbs.
He was considered a man of the Milosevic regime ... For his part, Wim Wenders filmed the famous movie "Wings of Desire", was awarded the Büchner Prize, the award "Franz Kafka".
"A mixture of myth and history: A disease that kills," he wrote in a drama "Ride shuttle type or a story for a film about war," which was to be set up a few years ago at the National Theatre.